Can you tell us about your main character?  Charlotte Baldwin is an adventurous, forward-thinking woman who has run away from the horrible situation she found herself in due to other people's choices.  She is college-educated and would definitely classify herself as a suffragette.  She's also just naïve enough to think that marrying a stranger in order to change her name would be a great way to shake the people she thinks are following her.
How did you develop your plot and characters?  I've had the characters of Charlie and Michael in my head for years.  I mean years and years and years!  And I knew that they would get married almost as soon as they met.  That idea intrigued me.  But I spent a long time rolling over possible ways that could happen and what would make it possible until I came up with one that not only worked, it opened a whole new window of possibility.  My editor, Alison Dasho, helped me to take the idea I came up with to the next level.  And I've also had the character of Phineas Bell in mind for a long time too.
Who designed the cover?  My good friend, Jonathan Longstaff from Pehr Graphic Design
Who is your publisher?  I am proudly self-published!  And I believe it's the best choice I've ever made.
Why did you choose to write this particular book?  I wrote Our Little Secrets because it's the kind of book that I would love to read.  I tend to love stories where something brings the hero and heroine together from the beginning and in which they have to tackle some sort of obstacle together while that obstacle is trying to break them apart.  I've also always loved the old west.
Will you write others in this same genre?  Well, Our Little Secrets is part of a series, the Montana Romance series.  I've already published the second book in the series, Fool for Love, which is Eric Quinlan's story.  I intend to write a novel for each of the four friends, Michael, Eric, Christian, and Phin.  And yes, Phin's novel will be an m/m romance which is part of a mainstream series.  Not sure if anyone has done that before or if I'll draw a lot of ire by doing it.  I'm also about to publish a novella, Sarah Sunshine, that takes place in this same world, and there may be more novellas about Cold Springs, Montana where that came from.  As for more western series, well, I do have one idea, but the next series I intend to tackle takes place on the high seas circa 1800.
Is there a message in your novel that you want readers to grasp?  Sometimes you just have to let the past go, dark though it may be, and focus on what's in front of you.
Have you included a lot of your life experiences, even friends, in the plot?  In a way, yes.  I know how it feels to want to disassociate yourself from your past (although my past is more on the sad side than the bad side).  And I do have several characters in the series who are based on people I know in real life.  But I'm not exactly sure I want to say who and how since they might find out!
How important do you think villains are in a story?  They're essential!  You need to have an antagonist of some sort to provide the obstacles that get in the way of your protagonist achieving their goals.  Aside from that, they can be great fun!
What are your goals as a writer?  My goal as a writer is simple.  I want to do whatever it takes to enable me to continue writing as much as possible for as long as possible.  That means selling enough to be able to make a living off of my writing so that I don't have to work a day job and can, therefore, spend more time writing.  I'd also like to travel to different conferences teaching workshops about writing and self-publishing.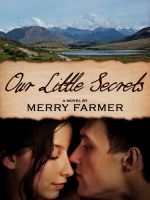 Michael West swore he would never fall in love again. So when the beautiful and wily Charlotte steps off the train looking for a new life he jumps at the business opportunity she presents. Engaged forty-five minutes after meeting, married the next day, Michael thinks he's found everything a respectable man should have. Except that Michael is as far from respectable as they come. They agreed not to ask questions about each other's pasts, but when the past seeps into their present Michael suspects his passionate new wife is not who she says she is. Too bad he's already fallen in love with her.
Charlotte Baldwin has a secret. She fled Philadelphia to escape the sins of her past but someone is following her. What better way to hide than by marrying Michael West, Cold Springs, Montana's enigmatic shopkeeper? A new name, a new life, and a passionate husband is exactly what she needs to leave her sins behind. But when it comes to keeping secrets Charlotte may have met her match in Michael. When a connection neither of them expects catches up with them, the shocking revelation means Charlotte may have run right into the arms of her enemy.
No sin stays a secret forever….
Buy Now @ Amazon & Smashwords
Genre – Western Historical Romance
Rating – R
More details about the author & the book
Connect with Merry Farmer on Facebook & Twitter
Website http://merryfarmer.net/